Access for disabled visitors
Access to the library is distinguished and facilitated according to the type of disability to meet the needs of each person.
From…
Metro: Line 11 Rambuteau stop, Line 1 Hôtel de Ville stop, Line 14 and 7 Châtelet stop

RER: Line A, B and D Châtelet/Les Halles stop

Bus:
Lines 29, 38, 47, 75 Centre Pompidou stop
Lines 21, 58, 69, 70, 72, 74, 76, 81, 85, 96 Châtelet stop
Lines 69, 70, 72, 74, 76, 96 Hôtel de Ville stop
Information service on transport accessibility in Ile-de-France:
Telephone: +33 (0)9 70 81 83 85
Car park and reserved parking spaces:
Entrances of rue Beaubourg and Les Halles underground. Exit on the "piazza". Places are reserved for disabled visitors on levels -2 and -3. Exit by the lifts on rue Saint-Martin, at the top of the "piazza". Go along rue Saint-Martin then turn left into rue Saint-Merri. The staff entrance is in a recess of the building, to your left.
---
Map
---
Access
People with visual impairments, disabilities or people with priority access can use the Center Pompidou staff entrance located at the corner of rue du Renard and rue Saint-Merri, every day the library is open. After 7 p.m., a button located to the left of the entrance door puts you in touch with the staff of the Center Pompidou to allow you access to the building.
A tactile strip guides from the staff entrance to the general information office and the booths (level 1 of the library)
An elevator, equipped with Braille signage, is at your disposal behind the escalator.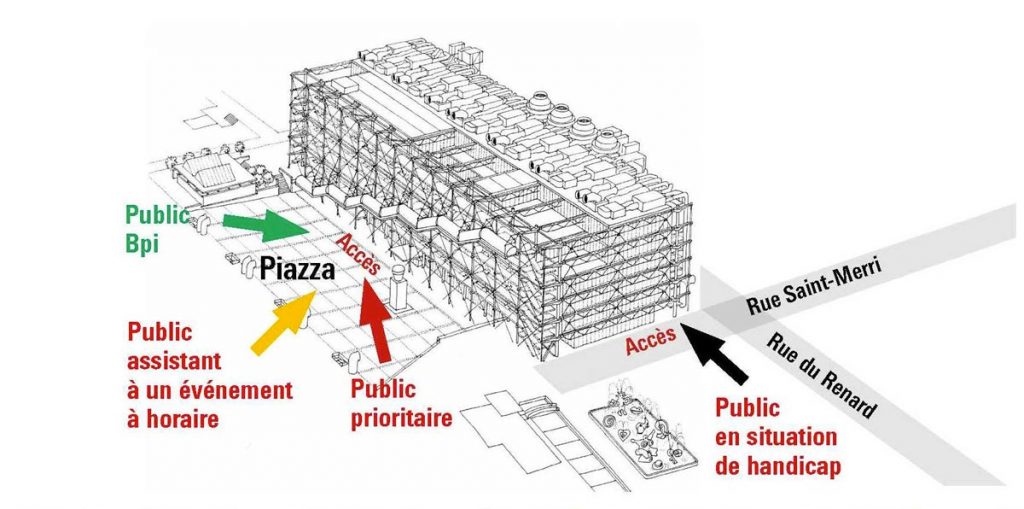 ---
Required documents
In accordance with the Centre Pompidou visiting regulations, disabled visitors, and one person accompanying them, benefit from priority and dedicated access, subject to consenting to security checks, on presentation of one of the three following cards:
the carte mobilité inclusion (CMI) mobility card,
the carte d'invalidité disability card (issued by the MDPH)
the carte d'invalidité des pensionnés de guerre (war pensioner's disability card).
A medical certificate or receipt for applying for a card are not accepted.