Bpi publishing
The Bpi also has a publishing house "Les éditions de la Bibliothèque publique d'information".Since 2012, its editorial policy has been centred around the Studies and research collection and the Networks of words collection, and the Bpi has decided to publish all of its titles electronically.
You can get epub, html and pdf versions of works that have been scanned on the platform of our partner OpenEdition Books
Since 2017, the titles have also been published in printed form by the Presses de l'Enssib.
For any other information, please contact us via the contact form.
Latest releases
The sensible experience of libraries
Six texts on the public of large establishments through the testimonies of six contributors with different profiles: sociologists, librarians, researchers, publishers…
Authors : Muriel Amar, Irène Bastard, Agnès Camus-Vigué, Line Cognat-Bertrand, Dana Diminescu, Christophe Evans (Dir.), Françoise Gaudet, Daniel Goldin, Quentin Lobbé, Caroline Raynaud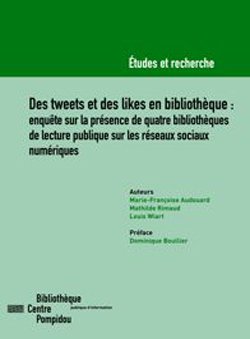 Tweets and Likes in the library
Survey of the presence of four public reading libraries on digital social networks.
Authors : Marie-Françoise Audouard, Mathilde Rimaud and Louis Wiart
Libraries and the digital transition
Internet workshops, between social injunctions and individual constructions.
Authors : Pascal Plantard and Agnès Vigué-Camus
Digital reading
A survey of avid readers.


Authors : Paul Gaudric, Gérard Mauger and Xavier Zunigo
---
ISSN 0993-8958

This collection provides the results of sociological surveys and studies on cultural practices, particularly reading, its processes and challenges, writing, libraries, their representations and uses…
---
ISSN 1765-2782
This collection is part of an online communication of reports of study days, professional meetings, conferences…
The titles in this collection are only available in electronic format. They are all distributed in open access by OpenEdition Books
The Bpi and the Images en Bibliothèques non-profit organisation have partnered to organise an exhibition on documentary film intended to help libraries create awareness of and highlight their documentary film collections.
---
An exhibition of 12 posters
With Images en Bibliothèques
Text by Jean Breschand

The Bpi and the Images en Bibliothèques non-profit organisation have joined forces to organise an exhibition on documentary film. This exhibition features a series of 12 posters, full colour, in 70×120 cm format. Libraries have the opportunity to purchase it and it was launched for the 2006 Documentary Film Month. The aim of this exhibition is to promote documentary film, present its history, styles and authors, through some of its key questions – filming the past, observations of childhood, humans and work… All while giving elements of information and reflection, the exhibition is richly illustrated: frames or captioned photos of filming, etc.


Poster supports
No. of posters: 12
Price: €220
ISBN-10 2842461029
ISBN-13 9782842461027

Order form to download