Visiting with your family

Are you visiting with children? The library does not have a Children's section and its documents are mainly intended for adults, but did you know that the library provides various documents and activities in the different spaces that children would enjoy?

And if you are grandparents, take advantage of priority access without queuing, with your grandchildren, through the Bpi exit (for those over 60). Children remain under the responsibility of the adults that accompany them.

Listen
On level 3, in the music space, the whole family can listen to music, play the piano or enjoy listening to stories being read.
Watch
Look up animation films, documentaries, filmed shows, digital comic books, online children's books…
Access without booking on most multimedia workstations.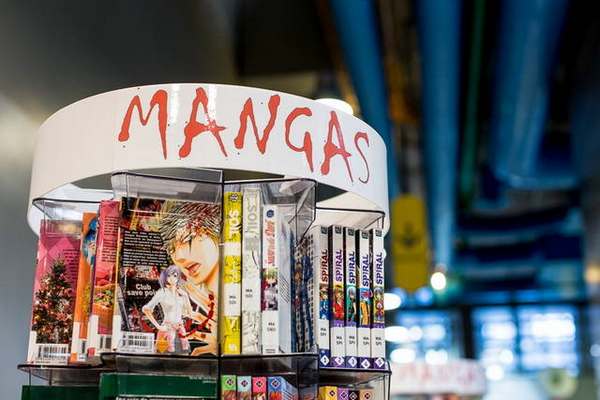 Read
The Graphics room
Fun and colourful, the Graphics Room has mangas, comic books, graphic novels and cartoons that teenagers and parents will both like, as well as young adult fiction.
Sciences
On level 2, in sciences, you'll find many illustrated books on animals, oceans, hot air balloons, astronomy, volcanos, etc.
Learn
In the In Self-training space (level 2)
Do you want to learn English, Chinese or learn everything about how volcanos work? Several fun methods and programmes on DVD are provided in the Self-training space which are suitable for a young audience.
Play
Do you want to play? Three games consoles, with three games linked to a theme, are available in the Video Games room. The programmed games, which go from the most popular to others that are not so well known, is regularly refreshed so that new games can be discovered throughout the year. The PEGI (Pan European Game Information) classification for each game is given so that you can see which are suitable for your children's age range.

Unaccompanied children under 12 are not authorised in this space.
Read books and comic books online with Izneo and Bibliovox!
Izneo has 7,000 comic books to read and read again, from the great Franco-Belgian classics to books for children, mangas… With new ones every month!

On Bibliovox, access 35,000 electronic books including the Young children / Children collection: Petit ours brun (Little Brown Bear), The magic cabin, Perrault's fairy tales … and almost 1,000 other titles. All these books can be accessed at the Bpi but also at home, if you create an account on Bibliovox at the Bpi.