The booths
On level 2 of the Bpi, three booths are reserved for visually-impaired people to use the library's funds and services. Equipped with furniture and reading tools adapted to the visually-impaired, their computer equipment will be gradually renewed.
Booths 1, 2 and 3 are freely accessible by reservation.
Booths are accessible during library opening hours.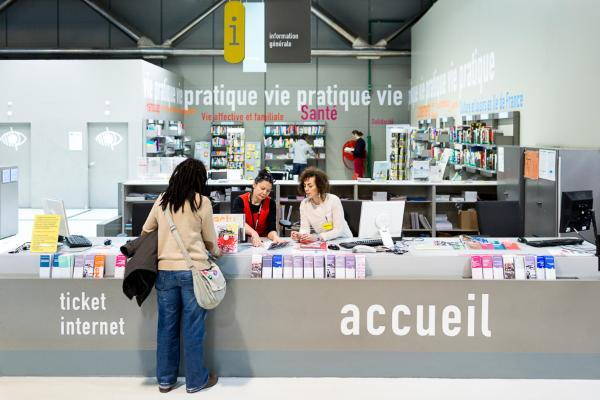 How do you use a booth?
You should first register with the librarians at the general information desk of the Bpi (+33(0)1 44 78 12 71 or +33(0)1 44 78 12 75).

The booking can be made on site or by phone on Mondays, Wednesdays, Thursdays and Fridays from 12pm to 10pm and the weekend from 11am to 10pm.
It is necessary to specify the desired equipment, the date of reservation, the number of the booth, the name of the user, and a guide if necessary.
Please note that the temporary booths are not soundproof: they have no ceiling, the walls are partitions. To avoid being disturbed by surrounding noise, we provide you with headphones to use the devices.
If you have a question, you can call the general information desk. A telephone will be placed in each of the booths: all you have to do is pick up the handset, you will be in direct contact with our librarians without having to dial a number.
More information on training in the section other services for disabled people.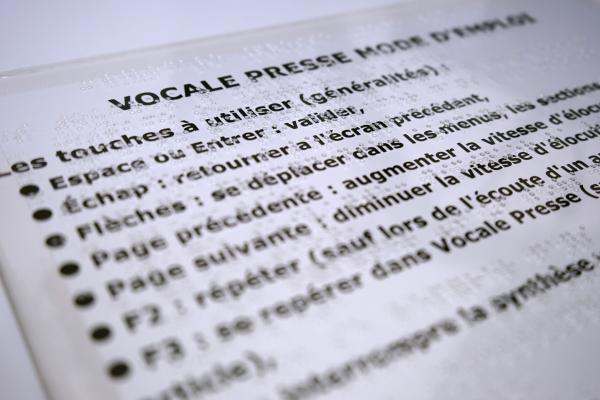 24 titles are offered: Le Parisien – Paris, Le Monde, Le Figaro, Libération, La Croix, Le Point, L'Express, Le Nouvel Observateur, Challenges, Marianne, Paris Match, Le Journal du Dimanche, L'Equipe, Marie Claire, L'Expansion, Lire, L'Entreprise, Sciences et Avenir, Le Monde diplomatique, Classica, Studio CinéLive, Mieux Vivre Votre Argent, Historia Spécial, Elle.
Booth equipment
In each of these booths you will find:
A reading machine
A video-enlarger
A Daisy player
A printer in black
A large character keyboard and braille display
A computer equipped with JAWS and NVDA voice synthesizers
A headphone
A telephone connected directly to the general information desk without having to dial a number
Two of the three booths will have a subscription to VocalePresse to read and listen to the press
For a brand new booth service, see you in the third quarter of 2022!